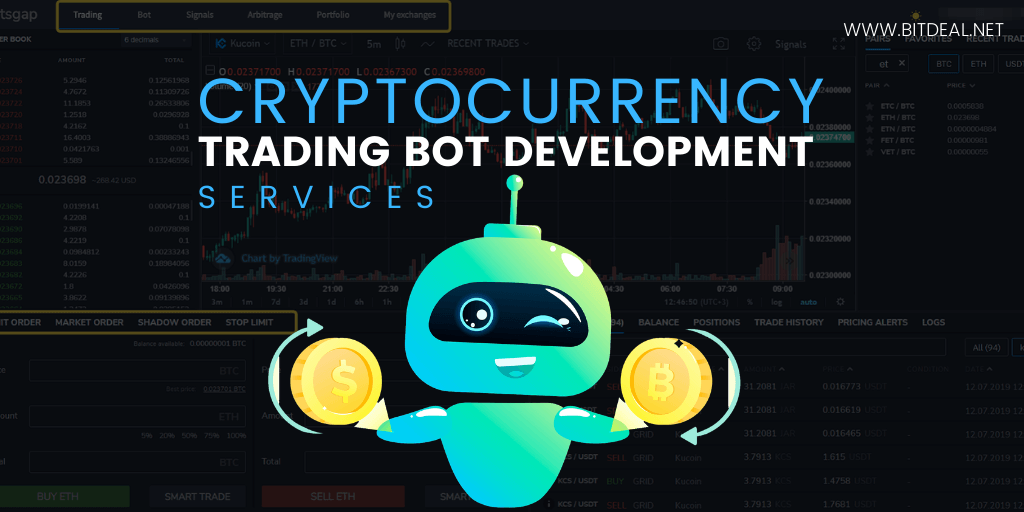 What Is The Purpose of a Cryptocurrency Trading Bot?
Cryptocurrency trading involves a lot of market research and risk management. Some of the tasks, such as technical analysis, are cumbersome and time-intensive. In response to the need to expedite this process, developers embarked on projects to create crypto trading bots that look for trading opportunities in the cryptocurrency market and make trades to exploit the opportunities.
The trading robot uses algorithms based on artificial intelligence (AI) technology to gather huge amounts of data and performs analysis faster than any human analyst. The bot then uses the resulting insights from the data to make trades.
Automated crypto trading bots work in three stages. Firstly, they conduct market analysis, after which they generate trading signals. Trading signals are simply cues telling the software to either sell or buy given trading pairs. The bot generates the cues from the insights gleaned from market analysis.
The second task that the pieces of software perform is risk allocation. This stage is an extension of the signal generation stage. Let us say the signal that was generated asked the bot to buy the trading pair in question. The bot will take the signal and decide how much it should buy. The most critical aspect of this decision concerns the amount of capital the bot should allocate to the trade.
Thirdly, the bot executes the trade. Execution will not happen unless the bot generates a clear trading signal and it has allocated risk properly. The best cryptocurrency trading bots in the market use separate algorithms for each of the stages mentioned above. Some bots go a step further by optimizing their operational ability by employing machine learning techniques.
So, how do you start using these trading platforms? The trading bots have websites where new users can create trading accounts. Account registration is a fast and simple process as long as you satisfy all the requirements. The trading bots work in partnership with cryptocurrency brokers to facilitate access to the market. Further registration is required when you are directed to the affiliated broker's trading platform. For instance, you might be required to provide personal information for the implementation of KYC guidelines.
If account registration succeeds, you should fund your account to start buying and selling cryptocurrency CFDs. For premium bots, you might need to pay some fees before accessing the full functionalities of the software. These kinds of bots often offer free trials to allow customers to decide whether the software fits their desire.
Even if a trading robot is free, you should take some time and paper trade with the demo account to get a feel of the platform. The demo account helps you to learn tricks such as risk management. Remember that the bot will take care of buying and selling activities, and all you need to do is fund your account and then activate the software.
How To Find The Best Cryptocurrency Trading Bots
Check Regulations and Security of Cryptocurrency Trading Bots: Trading robots embed themselves in affiliated brokers' trading platforms to provide you with a seamless trading experience. These brokers ought to have relevant licenses from reputable regulators to legitimize their business activities. Also, the best brokers have necessary security protocols in place to protect crypto traders' information and funds. Always ensure the broker has the right licenses before registering an account.

Check Fees of Cryptocurrency Trading Bots: Since the trading robot works in sync with the affiliated broker's trading platform, you might incur some fees from the broker. However, it matters what broker the bot directs you to when registering. Different brokers charge different fees but the lower, the better.

Additional Features of Cryptocurrency Trading Bots: Trading robots' primary task is to automate tasks that would ordinarily demand a lot of a trader's time. Additionally, some bots boast AI-based algorithms that make them intelligent enough to learn from the past and get better at market analysis. Other robots redirect traders to brokers who offer social trading functionalities. The more additional features, the better the bot.
Is a Cryptocurrency Trading Bot Trustworthy?
Cryptocurrencies are now a mainstream financial asset in many jurisdictions, including much of Europe and North America. As such, the law expects entities that offer crypto-related services to play within its confines. Playing by the existing rules and guidelines is an avenue through which cryptocurrency trading bots and their affiliated brokers earn traders' trust.
This means you should check the licensing information of, particularly, the affiliated broker because this is the entity that links you to the cryptocurrency market. Most brokers include relevant licensing information on their sites.
Several online reviews painted a rosy picture of what the pieces of software can achieve. Nonetheless, it is our opinion that your experience with the trading robots is unique and whether the experience is a good one depends on your experience as a cryptocurrency trader and the depth of understanding of the auto trading systems. Sometimes luck also plays a part, especially when crypto market conditions agree with the robot's trading signals.
When signing up for an account with crypto trading bots, you will notice that they redirect you to an affiliated broker automatically. As such, you cannot choose your preferred broker. Interestingly, there is a window of opportunity here for you to determine if you can trust the bot. A trustworthy bot will pair you up with a broker whose trading platform looks legitimate. Such brokers display all crucial information, including customer support contacts. You should check all the contacts just to be sure that the channels are active.
Will a Cryptocurrency Trading Bot Make Me Money?
If there is a question that cryptocurrency traders have been asking for years, then it is whether trading bots are profitable. For this reason, the internet is awash with testimonies and FAQs, making a case for profitability. A substantial number of testimonials claim trading robots have turned around their lives because they earn insane amounts of money.
It is not easy to dispute nor support such claims because cryptocurrency trading is a profoundly private activity in which different players have unique experiences. Countless trading systems are in existence, and each one boasts unique capabilities. Nevertheless, we feel that the ability to earn an income using cryptocurrency trading bots is contingent on managing risk and your mastery of the trading robot.
Final Thoughts
A large part of the increased significance of crypto markets as an investment vehicle can be attributed to the rise of cryptocurrency trading bots. The bots have reduced trading difficulty by automating much of the legwork that goes into making trades. Right now, you can create a trading strategy that could potentially return profits by simply following the trading signals of a bot.
Some bots have AI-based algorithms embedded in their codebase to perform tasks more smartly. Nonetheless, the smartness of the bots does not imply riskless trading.
Share On social Media 👇