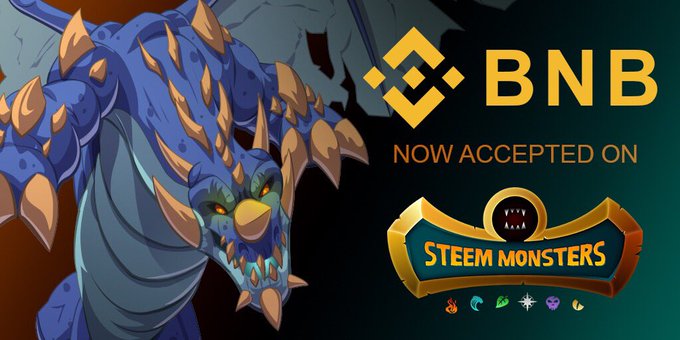 If you have used Binance, you'll have come across Binance Coin (BNB). And it makes perfect sense to want to know how to utilize your investment.
Try these 7 real-world uses to start getting more use out of your Binance Coin (BNB).
1. Pay Your Trading Fees With Binance Coin
Binance makes it clear that one of the main benefits of Binance Coin comes from the sizable loyalty discount it grants. When used to pay for trading fees on Binance, you'll receive a 25% discount.
While completely optional, it makes little sense to pay your fees with a different token.
Indeed, Binance Coin is one of the many reasons why Binance is so popular.
2. Receive In-Game Benefits
Crypto is becoming more popular in fields that create their own economy, such as online games. While BNB has two specific games using it now, it wouldn't be surprising to see it utilized in many more in the future.
The first game, Splinterlands offers a very unique selling point. The collectible card game's design was centered around blockchain technology. The cards emulate real trading cards, so you're essentially investing in a real-life asset.
They exist in limited amounts in-game and can only be traded by the owner with private keys. On Splinterlands, you can use your BNB to unlock the game's starter pack, which lets you do daily quests, work towards season rewards, and obtain Dark Energy Crystals. There's also the option to purchase other in-game items such as card packs and potions directly.
The other game, Axie Infinity currently exists in community alpha, but it already offers the option to collect, battle, and raise Axies in a terrarium-style arena. As with Splinterlands, it operates around restricted availability for all its assets.
With your Binance Coin, you can purchase specific regional chests that give you a plot of land as well as guaranteed items. In truth, the game mostly centers around Ethereum (ETH) on its online marketplace.
3. Use Binance Coin at Nightclubs
Have you ever wanted to go nightclubbing in New York, Las Vegas, Los Angeles, or Orange County without the wait?
You can skip the lines at MORE nightclubs and benefit from an evergrowing list of perks with your exclusive membership. The initial membership requires an investment of 6,000 MORE coins, but you're free to utilize BNB afterward.
At any MORE club location, you can spend BNB on their services. As an added bonus, you also will receive a 20% discount on your tab and a 10% rebate on your BNB purchases in the form of a digital token, MORE Coin. So your continued Binance loyalty will be rewarded with further gains whenever you spend.
4. Purchase Your Own Web Server
If you need a break from entertainment options for your BNB, try using it for your business.
With CenterServ's open embrace of Binance Coin and other cryptocurrencies, you can pay for your own cloud or dedicated server. The company has numerous U.S. and worldwide locations, so you can get started almost anywhere.
If you're looking for a high-availability server host that operates in a flexible way for your business needs, consider spending your BNB there.
5. Reinvest in Different Markets
If you decide your Binance Coin investment isn't for you, try reinvesting. Using Naga.com, you can use your BNB to invest in stocks (which are traded commission-free), Forex, or exchange-traded funds (ETFs).
And if you just want to just investigate for a bit, Naga has its own focus on crypto trading. You can manage your currencies via the NAGA Wallet, trade currencies, and exchange them as well. So if you're curious about Binance Coin's price, or buying Binance Coin with your credit card you don't have to rely on Binance alone for trading.
It always helps to be on the lookout for the best crypto exchanges, and Naga's growing platform (it's not available in all countries) definitely wants to compete. But before you potentially change exchanges, consider these ways you're using Binance wrong.
6. Hire Freelance Talent Globally

Sometimes you just can't manage a task alone, and you need a little assistance. CanWork provides a place where you can find that help from software developers, content creators, and other talented freelancers. All with the added bonus of being able to pay for any digital service with your Binance Coin reserves.
7. Invest in Real Estate

When talking about classic investment strategies, real estate comes to mind.
But with that notion, there's a lot of moving parts to consider before investing your Binance Coin in a property. You'd be dealing with a lot of people via the traditional route, and they might not always be accomodating to your schedule.
But by using Propy, you can cut down delays and other potential paperwork pitfalls while also protecting your information via blockchain technology. With the ability to complete the entire real estate purchase process online, you can streamline your investment while everything gets uploaded to an immutable blockchain. So not only can you complete the offer, but you won't have to worry about anyone being able to change any of your documents ever.
So why not use your Binance Coin for some physical assets or a home of your own?
Expand Your Uses: Binance Coin Holds Untold Value
With any cryptocurrency, there's a lot of uncertainties as you learn how best to use it. You might have market concerns, and you want to see how well it'll do in the coming years. But when you're ready to use your Binance Coin, there's a lot of real-world alternatives besides just using it on Binance.
Whether you're an avid investor in Binance Coin, or you're still studying and haven't even verified your Binance account—just remember to explore your options. There's a lot to the study of any cryptocurrency such as Binance Coin, and its many growing uses is an area to keep track of.
Share On social Media 👇