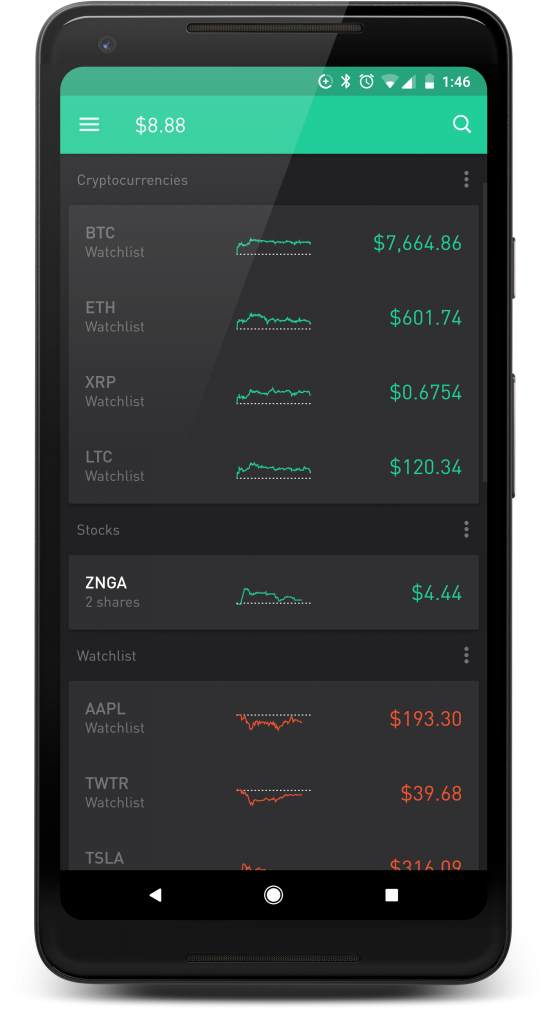 How to buy Bitcoin with the Robinhood app
Robinhood is a commission-free trading platform that allows users to buy and trade Bitcoin, Ethereum, Litecoin and other major cryptocurrencies, in addition to stocks, options, ETFs and gold.
In times of positive Bitcoin price movement, many new crypto investors find the process of buying via an exchange challenging. For a lot of them, a common question is 'can you buy crypto on Robinhood?'. The answer is yes. The Robinhood app allows account holders to easily trade over 5,000 different stocks, ETFs, options, gold, and crypto via its mobile app or web browser.
Despite (or perhaps because of) the recent WallStreetBets drama, usage of the app has soared this year. Robinhood had more than 3 million app downloads in the month of January, its highest on record. Coinbase had 1.3 million and China-owned Webull had more than 800,000 downloads last month.
Buy crypto with Robinhood
Robinhood was founded in 2013 by Stanford University graduates Baiju Bhatt and Vlad Tenev with the aim of democratizing finance and making it more accessible to young and less affluent investors. The company is one of the most successful fintech startups in recent years and has approximately 10 million active users. Robinhood does not charge a commission for trades made on the platform and was one of the first brokerages to offer zero-commission trading. Its innovation in the brokerage industry prompted other brokerage firms to follow suit, and as of today, the majority of brokerages offer zero-commission fee structures.
Who can trade with Robinhood?
For anyoone applying for a Robinhood account, the following requirements need to be met:
Be 18 years or older
Have a valid Social Security Number
Have a legal U.S. residential address within the 50 states or Puerto Rico
Be a U.S. citizen, U.S. permanent resident, or have a valid U.S. visa
Robinhood Crypto is available in 46 of the 50 US states. The restricted states are Hawaii, Nevada, New Hampshire, and West Virginia.
Users outside the U.S are blocked from opening accounts on Robinhood
Non U.S investors are geo-blocked from opening Robinhood accounts. While it would be possible to bypass this obstacle using a VPN, Robinhood is not an anonymous platform, and follows bank-like 'know your customer' onboarding procedures – requiring anyone wanting to open an account to also provide ID like a passport, a drivers license, a social security card or other US specific ID to do so. From a platform OS perspective, the Robinhood app is available as a free download for Android, iOS and most popular web browsers.
Why use Robinhood instead of a crypto exchange?
The arguments for using a centralized service, such as Robinhood Crypto, for buying, selling and storing cryptocurrency revolve mainly around ease of use.
Purchasing crypto via an exchange and securely managing a crypto wallet and private keys creates a high barrier to entry for unsophisticated traders. Whereas platforms such as Robinhood Crypto and Square's Cash App focus heavily on creating an easy, seamless user experience. For the non-technical investor or speculator, having the storage of your Bitcoin managed by a third party makes the process of trading cryptocurrency much less daunting.
Robinhood's easy to use app has made crypto investing less scary for new entrants
Using an app like Robinhood removes the need to learn how to send, receive, and store cryptocurrency entirely. It can also be the safer option for less technical investors, as cryptocurrency that is stored in an insecure manner risks a total loss through being misplaced or hacked.
What crypto can you buy on Robinhood?
You can buy Bitcoin on Robinhood Crypto in addition to the following cryptocurrencies 24/7 with no commissions:
Bitcoin SV
Ethereum Classic
The platform does not allow users to withdraw or deposit actual crypto coins from their Robinhood Crypto account, though the company states that "You own the cryptocurrency assets in your account, and you can buy or sell them at any time."
Robinhood says this is to prevent proceeds from illegal activity from being used for transactions. There is no traditional crypto wallet associated with a Robinhood crypto account. Withdrawals of cryptocurrencies are currently being evaluated, however.
Although all its divisions operate under the umbrella 'Robinhood' brand, Robinhood Financial, Robinhood Securities and Robinhood Crypto are wholly owned subsidiaries – and because crypto assets are held in a 'Robinhood Crypto' account and not a 'Robinhood Financial account', they need to be backed 100% by cash.
After a trade completes, the asset balances in your Robinhood crypto account will update immediately, but if you want to withdraw funds to your bank account the standard Automated Clearing House wait time of five business days still applies before your funds will be cleared. You cannot buy stocks or ETFs using your Robinhood crypto balances.
These restrictions mean that Robinhood Crypto is only suitable for customers wishing to speculate on price movements, and not for those wishing to control the movement of their cryptocurrencies between exchanges or for facilitating payments or other types of transactions.
How do you buy crypto on Robinhood?
As promised, actually buying and selling crypto on Robinhood is an easy, seamless experience. Simply follow these steps on iOS or Android apps.
Navigate to the cryptocurrency's detail page.
Tap trade.
Tap buy.
Tap order types in the upper right order.
Select your preferred order type.
Confirm your order.
Swipe up to submit your order.
The process for selling crypto is exactly the same aside from step 3 where you tap sell instead of buy.
But what are you actually buying? Frequently with brokerages that do not let users withdraw their crypto, the product available for purchase is a derivative that tracks the price movement of a particular cryptocurrency, rather than the actual crypto.
Robinhood doesn't do this. The company says that they purchase all underlying cryptocurrencies and that they do not sell derivatives. Robinhood doesn't say exactly who it buys the crypto from – stating only that "we send your order to various trading venues that allow you to receive competitive prices."
In December last year Robinhood Financial settled with the SEC for not revealing to customers that it was being paid by trading firms to channel its users to them. The SEC said Robinhood did not "satisfy its duty to seek the best reasonably available terms to execute customer orders." Robinhood Financial agreed to pay $65 million to settle the charges.
In addition to cryptos you can buy and sell using the app, Robinhood Crypto also supports real-time market data for the following cryptocurrencies:
The company plans to expand its offering of cryptocurrencies available to trade in the near future, and whilst it states that providing market data does not necessarily mean a cryptocurrency will be supported, it is likely that at least some on the above list will be listed in the future.
What are Robinhood's fees for crypto trading?
Whilst Robinhood and Robinhood Crypto advertise their service as commission free, there are still costs to trading on the platforms. In terms of Robinhood Bitcoin fees, one of the ways Robinhood makes money is off the spread, which is the difference between the best buy and sell price.
The size of the spread is a measure of the liquidity of the market, or how quickly and easily a trader can convert between cash and a cryptocurrency. Typically, there are smaller spreads for better known cryptocurrencies like Bitcoin, and larger spreads for lesser known cryptocurrencies.
Traders on Robinhood Crypto can also have the fees charged by cryptocurrency exchanges, brokers, market-makers, liquidity providers, or other types of cryptocurrency counterparties, trading venues, or intermediaries, passed onto them. These terms are stated in the Robinhood Crypto User Agreement, and allows Robinhood to pass on any fees they incur from buying and selling the underlying cryptocurrency to the traders.
Is your crypto safe on Robinhood?
Robinhood Crypto uses industry best practices for storing and managing cryptocurrencies by dividing the crypto among a mix of cold (offline) wallets and hot (online) wallets. Most of the coins are kept in cold storage, with the rest being in hot wallets to support day-to-day operations.
Additionally, coin transfers need to be authorized by a select group of people, and Robinhood says this group is constantly being rotated to ensure a high level of security is maintained. The company does have a crime insurance policy, underwritten by Lloyd's of London, that covers a portion of the assets held by Robinhood Crypto against losses from theft, including cybersecurity breaches.
That said, however, Robinhood Crypto is not a member of FINRA, and as such they are absolved from responsibilities and obligations that they would typically be subject to when providing trading services for equities. User funds are also not covered by the Securities Investor Protection Corporation, which protects stock purchases on Robinhood to the tune of $500,000, nor are they covered by the Federal Deposit Insurance Corporation (FDIC), which insures bank deposits for up to $250,000 USD per customer.
Robinhood Crypto holds a BitLicense issued by the New York State Department of Financial Services (NYSDFS), which enables a company to conduct business activities related to cryptocurrency. The NYSDFS has only awarded seventeen of these licenses since they were first introduced in August 2015.
Robinhood Crypto is also registered with the Financial Crimes Enforcement Network as a money services business. As such, Robinhood Crypto is subject to and complies with the applicable requirements of the Bank Secrecy Act, and complies with the applicable money transmitter laws of U.S. states.
How does Robinhood make money?
One way to evaluate your crypto's safety on Robinhood is to consider the company's business model and how well capitalized it is. Robinhood's main source of revenue comes from payments for order flow, interest earned on customers' cash balances, and margin lending. Payments for order flow is a common but controversial practice whereby a broker receives compensation and other benefits for directing orders to different parties for trade execution.
The December 2020 SEC settlement was not the first action against Robinhood in this regard. In December 2019, for example, the Financial Industry Regulatory Authority (FINRA) fined Robinhood Financial $1.25M USD for best execution violations related to customer equity orders. Best execution is a legal mandate that requires brokers to provide the most advantageous order execution for their customers given the prevailing market environment.
Robinhood does acknowledge that it channels crypto orders to operators who give it "volume discounts" but states that these discounts aren't considered when deciding where to route an order.
Independent analysis suggests that payments for order flow totalled close to $100M USD in the first quarter of 2020 and accounted for more than 40 percent of Robinhood's overall revenue. Other sources of revenue include a $5 monthly fee for optional membership to Robinhood Gold, which gives the client access to margin loans and investing tools; interest on uninvested cash; lending stocks purchased on margin; and fees on purchases using the company's debit card.
In terms of its capitalization, Robinhood closed a $280 million USD Series F funding round in May 2020 that values it at $8.3 billion USD. This follows a $323 million USD Series E round from July 2019 that valued the company at $7.6 billion USD. The round was led by Sequoia Capital, with Ribbit Capital, Unusual Ventures, NEA, and 9Yards Capital as participating investors. While it has long been rumored a sharemarket float is on the cards for Robinhood, the company has not yet filed the paperwork for an IPO with the SEC.
Share On social Media 👇