If you are based in Canada and looking for a good exchange to trade crypto, then Coinsquare is one very good option for you to look into and we will be giving an honest review in this post.
Indeed, crypto buyers can use several online exchanges and crypto trading platforms. We wrote a Shakepay review in the past, and here's our Coinsquare review. As you will see below, buying and selling cryptocurrency at Coinsquare is straightforward.
Coinsquare User Interface
The first place to start with these kinds of reviews is the user interface (UI). A website with an unfriendly UI is not going to attract or keep visitors. It matters not how good the technology behind that site is. Thankfully, that's not something you have to worry about with Coinsquare. This gateway may not be the most popular in the world, but reviewers rave about how easy the UI is to work with.
The site is clean, simple, and easy on the eyes. It only takes a few clicks to navigate to the information you are looking for. As for signing up for an account, it couldn't be easier. Just click the link and fill out the information; you can be ready to go in minutes.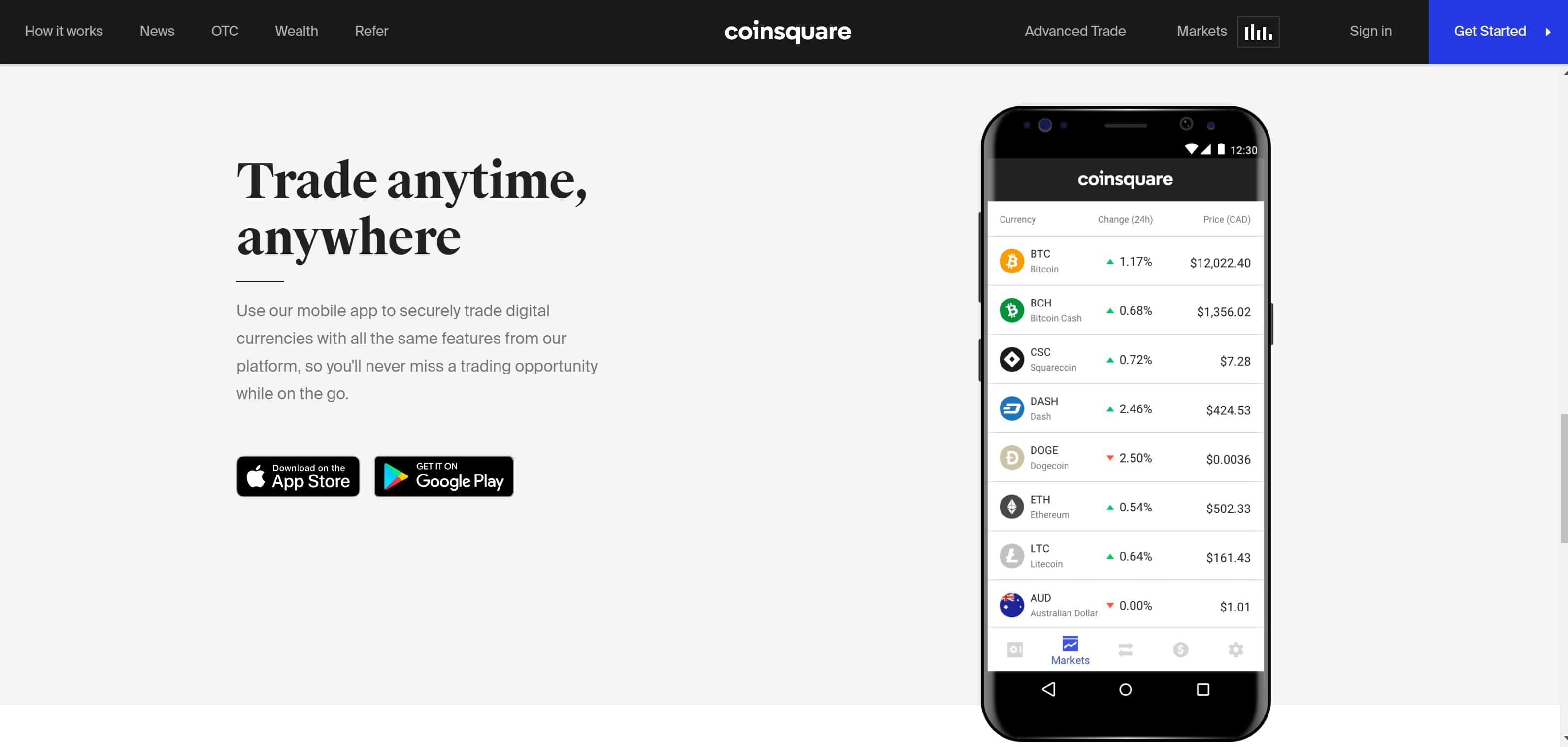 Moreover, Coinsquare also offers a mobile apps both for iOS and Android. Many users complained about the Coinsquare app, saying it's glitchy and unreliable. If you plan on buying crypto on your smartphone, you're better off using Shakepay's app. Otherwise, stick to Coinsquare's website.
Coinsquare Coin Support
For some, one of Coinsquare's downfalls during its early days was limited coin support. These people should be happy as this is no longer a problem. At the time this review is written, they support no fewer than 10 different crypto assets.
Which currencies does Coinsquare support?
Rumour has it that they do not intend to stop here. However, only time will tell if Coinsquare adds more digital currencies to the list. The 10 they already support give new buyers plenty of options – or you can keep it simple and just buy bitcoin.
Coinsquare Funding Options
New customers can fund their accounts through a variety of electronic options, including Wire transfers and Interac e-transfers. Unfortunately, the fiat currencies Coinsquare accepts is rather limited despite their insistence that they are "the world's home for digital currency." At the current time, Coinsquare only accepts Canadian dollars, US dollars, Euros, and Swiss francs (CHF).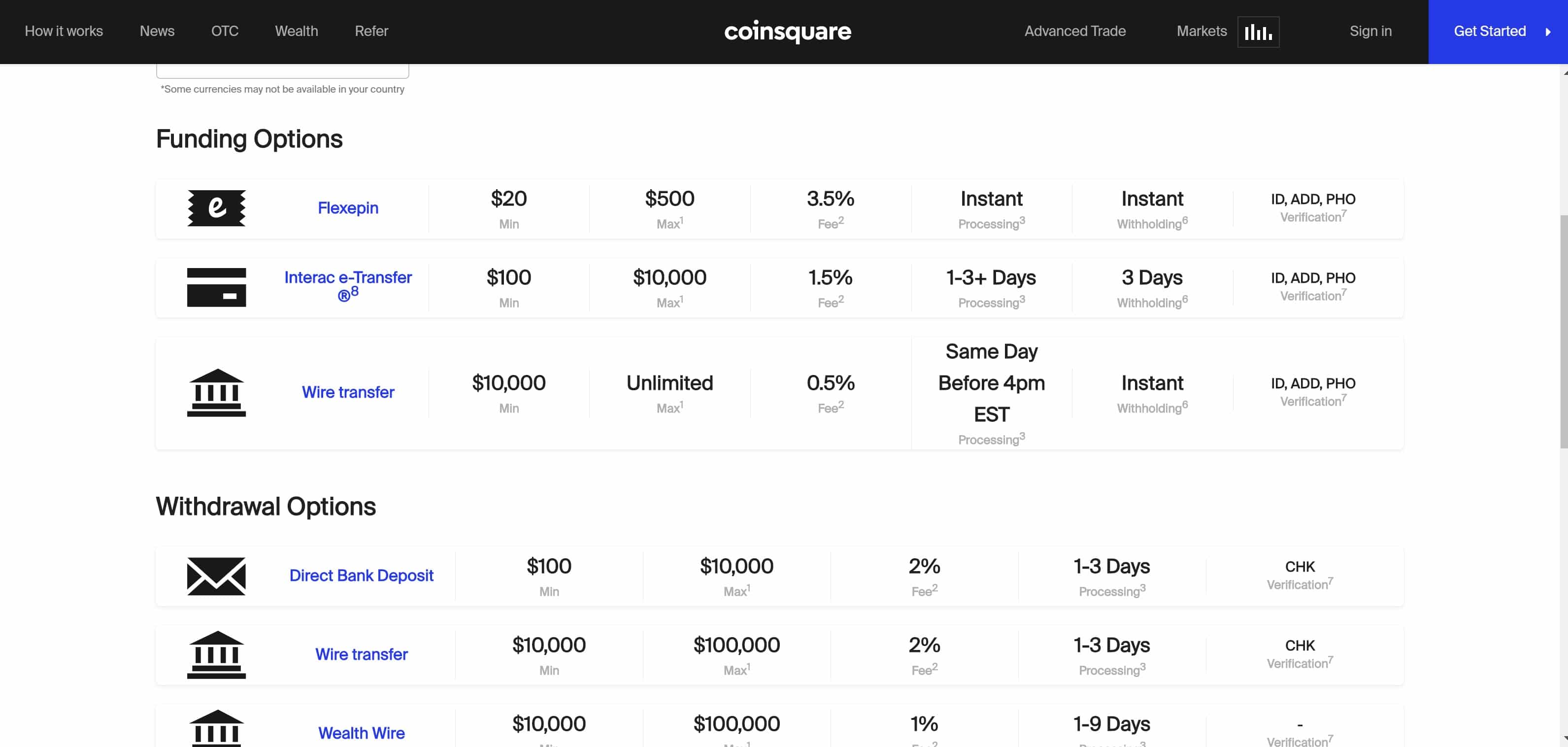 Coinsquare Software and Security
Security should be a concern of every cryptocurrency investor regardless of the amount spent on that first purchase. Without adequate security, the main thrust of cryptocurrency is essentially lost. With that said, a brief search for security issues with this gateway turned up nothing.
Coinsquare's website mentions that their software is proprietary. It is not clear whether that means the code was built from the ground up with no help from open source code, or it started as open source and then was modified for Coinsquare's purposes. In either case, proprietary code is a safer code – at least in theory.
Coinsquare Transaction and Trading Fees
Organizations like Coinsquare pay the bills by charging transaction fees or trading fees to both buyers and sellers. Transaction and trading fees vary between crypto services so it behooves the user to compare prices every now and again. Coinsquare's business model currently charges fees both when you fund or withdraw from your account and when you actually buy or sell crypto.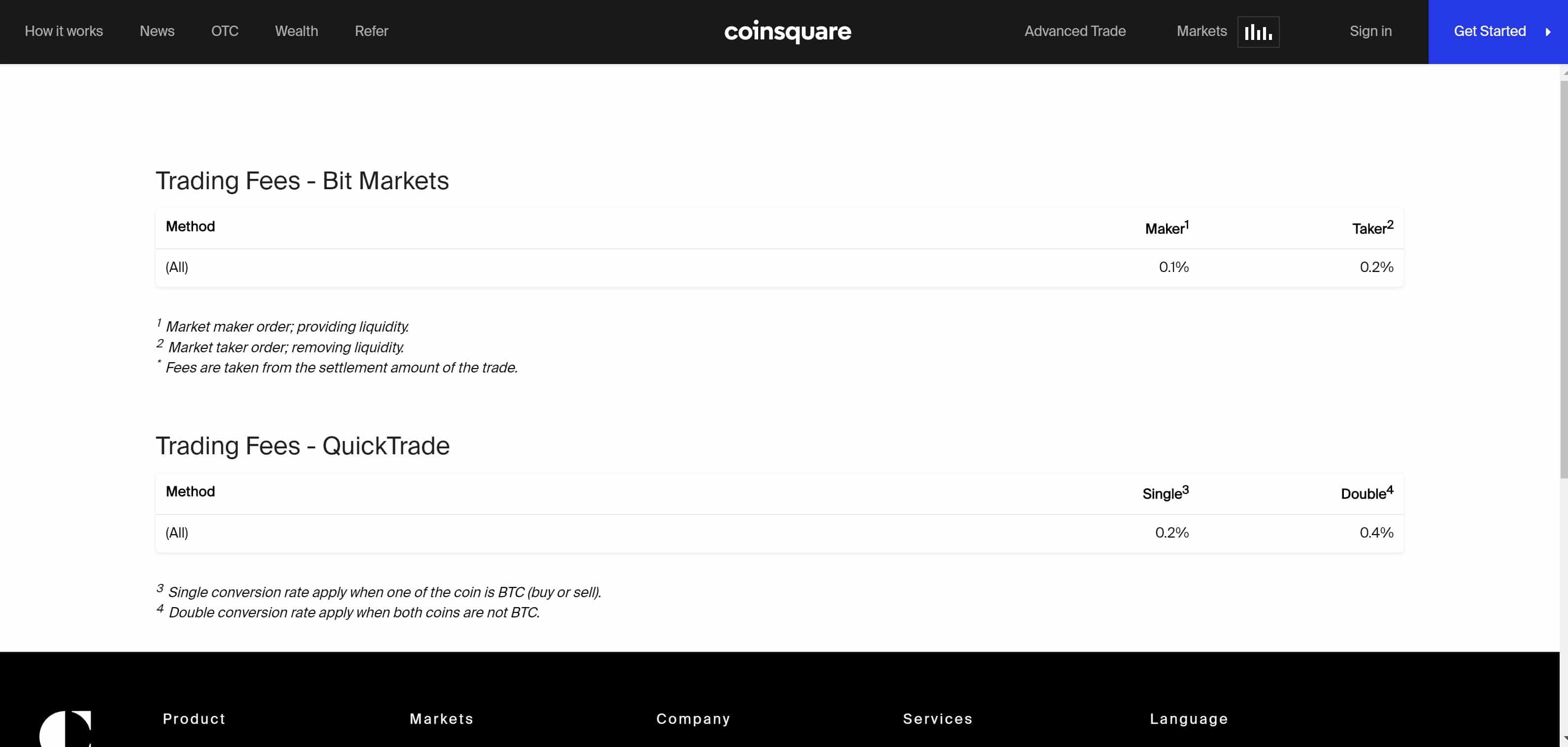 Note that all fees and charges are clearly displayed on the Coinsquare website as required by law. If you ever have any questions about how much a particular transaction is costing, just visit their website and look up the numbers. It's all there.
Is Coinsquare Legit or is Coinsquare a Scam?
At the end of the day, most cryptocurrencies buyers' primary concern is whether they're at risk of getting scammed. Coinsquare Exchange is a regulated Canadian corporation with, so far, a good track record. There're one of the more prominent company in the space, having had ads featured in major medias. Coinsquare reviews online are positive and up to now it can be concluded that Coinsquare is legit. In short, it's safe to say that Coinsquare is not a scam. As always, be careful no matter which service you use to buy and sell crypto – don't keep your bitcoins on exchanges, not your keys, not your bitcoin.
Share On social Media 👇